LangComp Pinyinizer (formerly "Biaoyinyi") annotates Chinese texts with pinyin automatically under the Microsoft Word environment. It is a very handy tool for Putonghua (Mandarin) teachers and learners, as well as people who need to use Putonghua at work.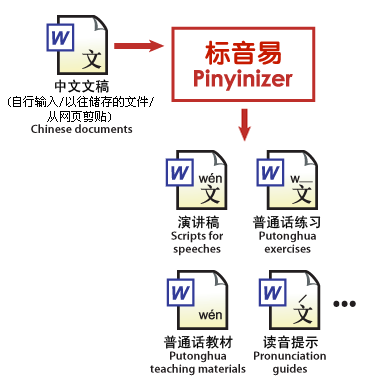 Features
Pinyinizer integrates with Microsoft Word for users' ease of use and convenience.
[Enhanced in v2.0] Both traditional and simplified Chinese texts can be transcribed.
Chinese words are segmented and transcribed with the help of the lexical databases and the natural language processing algorithms built within Pinyinizer. Therefore, determination of the suitable pronunciation of polyphonic characters is greatly reduced.
The pinyin transcribed can be placed above the Chinese text or anywhere else separately. The output can be saved as a new document or simply shown in the original document.
Pinyinizer can be configured to transcribe the text with tone sandhis explicitly shown.
[New in v2.0] The new "Capitalize" function enables users to capitalize the first letter of the pinyin. Also, users can configure Pinyinizer to capitalize the first letter of each sentence automatically.
[New in v2.0] The new "Font Settings" function enables users to set and change the font type and font size of the pinyin as well as the spacing between the pinyin and the Chinese text.
[New in v2.0] The "Delete Pinyin above Text" function enables users to undo transcriptions easily (only applicable to the output in "Pinyin above the Text" format").
[New in v2.0] The "Convert Tone Marks" function converts numeric tone marks to their standard conventions. It is a handy tool for users who want to type out the pinyin instead of transcribing it.

[New in v2.0]

"Custom Dictionary" enables users to store the designated pinyin of special terms and professional jargon so as to meet special needs.
[Enhancement in v2.0] The enhanced "Quiz Maker" enables users to create fill-in-the-blanks exercises of initials, finals or Chinese words. Teaching materials that only show the tone marks of the Chinese text can also be created for novice learners.
[New in v2.0] The user interface language of Pinyinizer can be switched to English, Traditional Chinese or Simplified Chinese.
The pinyin is shown with Unicode fonts# which can be viewed and printed in any system that has those fonts installed.
# "Unicode fonts" are the fonts which support the Unicode subsets "Latin-1", "IPA Extension" and "Combining Diacritical Marks". Examples of such fonts include Arial Unicode MS (distributed with Microsoft Office), Lucida Sans Unicode (Windows built-in) and Segoe UI (Windows Vista built-in).
Demo 1: (Pinyin transcription formats)


Demo 2: (Editing pinyin)


Demo 3: (Quiz Maker)


Reference
-

Pinyinizer User's Manual
System Requirements
Microsoft Windows 2000 or newer

(This product can only run on Windows systems with Unicode support)

Microsoft Office Word 2000 or newer**

12MB of free hard disk space (23MB of extra free hard disk space is required if the "Arial Unicode MS" font needs to be installed)
Mouse
** Regarding the compatibility of Pinyinizer and MS Office 2010, please note that Pinyinizer 2 cannot be run in the 64-bit version of Office 2010. However, it can be run in the 32-bit version of Office 2010 running in the 64-bit Windows environment.
Ordering Pinyinizer 2
1. Purchase from LangComp
2. Purchase from our sales agent:

Intelligent Software Company Limited
Telephone: (852) 2126-7633
Website: http://www.i-software.com.hk
Notice: Due to the complexity of human language, the accuracy of Chinese word segmentation, and hence that of Chinese pinyin transcription of this product is not guaranteed for 100% accuracy. LangComp will not be liable for any loss incurred as a result of using or relying on this product
Pinyinizer is a trademark of LangComp Company Limited. Windows, Office and Word are either registered trademarks or trademarks of Microsoft Corporation. Any other trademarks or trade names mentioned are the property of their respective owners.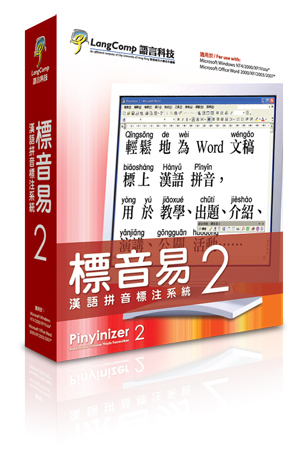 The Pinyinizer 2 Toolbar
(click the image above to zoom)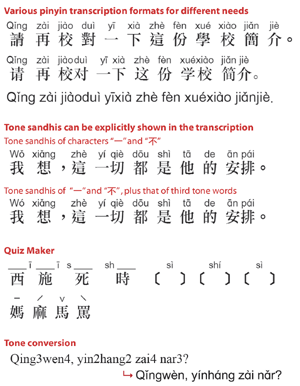 Main features of Pinyinizer 2
(click the image above to zoom)